Manage sources (Exchange, iCloud, Google)
To add a new source, you should go to "Add source" tab & select the type of source you'd like to add. There are three types to choose:
Google (Gmail, Android device)
iCloud (iPhone, iPad)
Exchange (Microsoft 365, Windows Phone)
In the next step you'll need to enter the log in information. After the login is successfully completed, the source will appear in the "Sources" list.
In the "Sources" tab, you can enable/disable all your existing sources, change selected folders/groups, change sync direction, and remove them.
In the "Sources" tab, you can reconnect to Google/Microsoft 365 source using "Reconnect"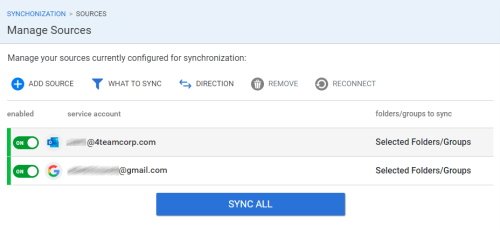 If you have any questions, you can write us an email, contact us via live chat, or call via phone: +1-202-747-0888.