Member Management
The page purpose is to overview, add/remove member accounts available on your team/enterprise SyncGene account.
The following features are available:
Add Members – invite new users to join your account. Users can added by inviting them via email and also added from an enterprise environment (Google Workspace / Office365 enterprise / Exchange enterprise) using a CSV file.
Manage – Change user' name, set specific notifications settings.
Rights - promote selected user(s) to an admin or demote admin(s) to a user. Admin can add/remove users, manages payments.
Disable/Enable – user account(s) are disabled or enabled. In case user account is disabled - user cannot login and synchronization is stopped.
Remove - remove selected user account(s) from your team/enterprise account.
Stats indicate the following:
Active - how many users are currently added to this SyncGene account.
Pending - how many users were invited to join the SyncGene account, but did not accept the invitation yet.
Seats Used - the number of seats that were used over the current period. Please note that as soon as new user is added to your SyncGene account, it will be considered that user has used a seat for current period.
The following information is available on member management page for every user:
User full name.
Account name. This is the default account that user uses to log in.
Sources count. How many synchronization sources are currently added and enabled for that user account.
Status. The following statuses are available:

Active – account becomes active when invitation to join a SyncGene team account is accepted.
Invitation Pending – User has not yet accepted invitation to join SyncGene Teams account.

Last sync result – the result of last completed synchronization.
Login – login to the user SyncGene account.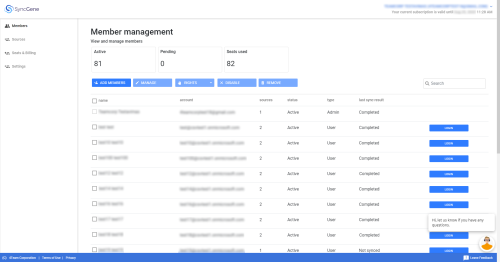 If you have any questions, you can write us an email, contact us via live chat, or call via phone: +1-202-747-0888.