You are here:
Enterprise
>
Notification Management
Notification Management
SyncGene Team account members' notifications can be managed for all users and for each of the users individually. Notifications for all users can be managed on notification management page.
You can do the following:
Enable/disable all notifications for all users. Notifications can also be filtered seperately:

Enable / disable notifications related to SyncGene account.
Enable / disable notifications related to sync status.

Send all notifications additionally to admins of SyncGene account
Send notifications additionally to the specified email address(es).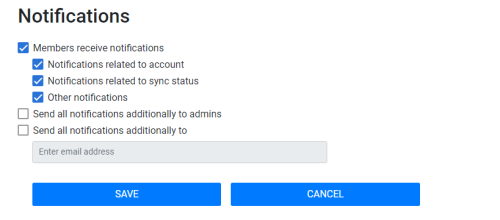 Please note - some of the features are only available for the Team accounts that have Enterprise plan.
If you have any questions, you can write us an email, contact us via live chat, or call via phone: +1-202-747-0888.