Share Contacts from your phone with iPhone, Android and other devices
Share your Google, iCloud and Office 365 Contacts with others no matter device they use. SyncGene keeps your Contacts always up to date.

Please click "Sign Up to Share" to share Contacts with selected devices or apps.
SyncGene customers reviews
"
Finally, I can easily share company Contacts with my employees. I can avoid entering the same information on multiple devices. Nothing to worry about
"
Share Contacts with SyncGene
Contacts sharing solution for different platforms
SyncGene is a web app and sharing service for your Contacts, Calendar and Tasks. It helps to avoid adding new phone numbers or entering appointment details manually. All changes in shared library are automatically shared to connected devices.
Features related to Contacts sharing
Share Contacts, Calendar and Tasks between iCloud, Office 365, Google Gmail and other apps you use.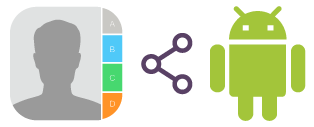 SyncGene allows to share Contacts from iPhone to Android. Signup wizard will help to set up the sharing in just a few clicks. Automatic Contacts sharing ensures continuously updated Contact lists.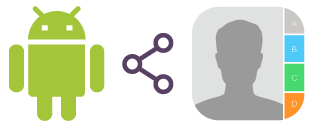 Share all or selected Android Contacts with iPhone. Changes made on any device are shared between connected accounts. Since it is a web-app - there is nothing to install.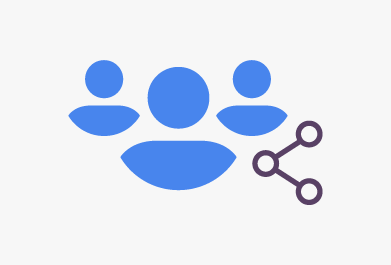 Share your Contacts with others
With SyncGene you can share your Contacts with multiple people between different platforms. Manage most important Family members Contacts list or share your work Contacts with colleagues. Keep your friends list continuously updated.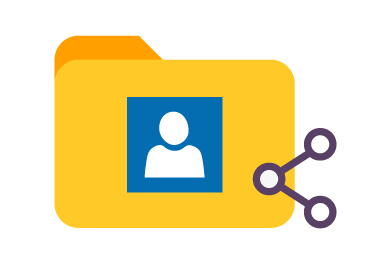 Manage shared Address book
Choose Contacts you want to share with others. Share selected folders or all Contacts from your mobile phone Address book. Share your Contacts with others without disclosing all your Contacts list.
MORE FEATURES
How to share Contacts?
Easily share your Contacts with others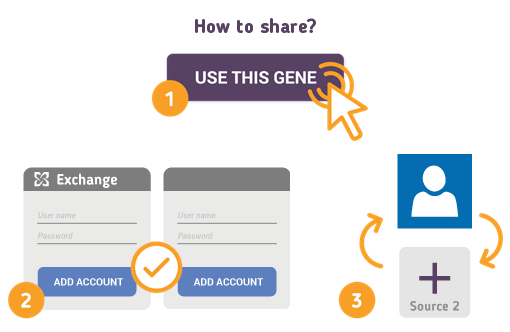 1.

Go to SyncGene and sign up;

2.

Find the "Add Account" tab, select and sign in to your Contacts account;

3.

Click on "Add Account" and log in to your secondary account where contacts will be shared to

4.

Find the "Filters" tab, choose "Contacts" and check the folders you want to share;

5.

Click "Save" and then "Sync all".
Select Contacts sharing scenario
Select from the most popular SyncGene Contacts sharing solutions
About 4Team Corporation
A company behind SyncGene
4Team Corporation is a Microsoft Gold Certified Partner and independent software vendor. Since 1999 we are developing software for Microsoft Windows and Add-ins for Microsoft Outlook. One of our products is SyncGene - web app to share Calendars events, Contacts and Tasks. It helps to create shared libraries and collaborate between different platforms and devices. We are serving hundreds of thousands of customers around the world. We are very proud to be highly recommended by our customers and offer award-winning support.
Our satisfied customers
Customers worldwide trust 4Team Corporation services for personal and business needs