Add Google Calendar
Free software to Add Google Calendar
Add your Calendar to Android, iPhone, Samsung or any device you use. Add your Calendar to a new phone or apps you use.

Add Google Calendar by clicking "Sign Up to Add" button.
SyncGene customers reviews
"
With SyncGene I can add my work Calendar both to my iPhone and Android tablet. Works great!
"
Add Google Calendar with SyncGene
SyncGene is a Free service and a web app to add Calendar. Add your Calendar to iCloud, Google or Office 365. Add it to your mobile device - iPhone, Samsung or Android device. Changes made to one Calendar will be updated on connected devices.
Features related to add Google Calendar
Add Calendar to Google, Office 365, iCloud or any device you use.
Add Google Calendar
Add Google Calendar with SyncGene. Add it to most popular cloud platforms - Google, Office 365 or iCloud. Or any device you use - iPhone, Android, Samsung or Computer. Calendar is updated between connected devices and can be added to several accounts at once.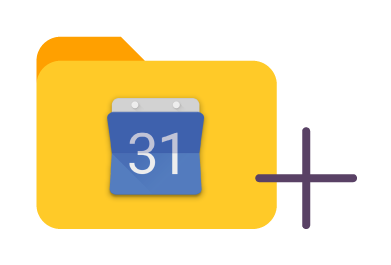 Manage permissions for Google Calendar
Google Calendar can be added with different permissions. Set "Edit" or "Owner" rights. Give "Free/Busy" or "View only" permissions. Managing rights can be adjusted for each person you are giving access to.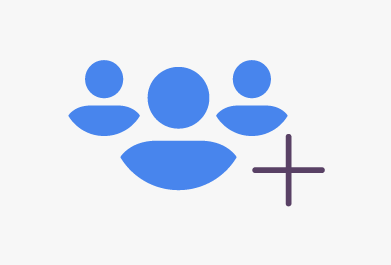 Add shared Family Calendar
Keep your schedule known for people around you. Add shared Family or Work Calendar to Google. Calendar events could be updated between people who have added this Calendar.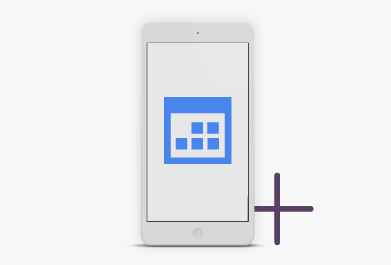 Add Calendar to your mobile device
You can Add Google Calendar from any device you use. SyncGene is a web-app, so it can be accessed without installing anything. Manage your Calendar events wherever you are.
MORE FEATURES
How to add Google Calendar?
Easily add Google Calendar events to device or web-app you use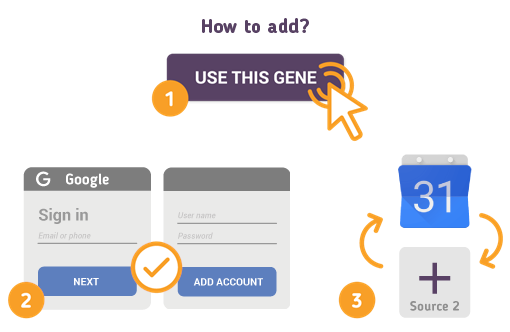 Just follow the steps below:
1. Go to SyncGene and sign up;
2.

Find the "Add Account" tab, select and sign in to your Google Calendar account;

3.

Click on "Add Account" and log in to second account where contacts will be added;

4.

Find the "Filters" tab, choose "Calendar" and check the folders you want to add;

5.

Click "Save" and then "Sync all".

You have successfully added Google Calendar. Connected devices will be updated when changes are made on any of Calendars.
If you need more information about Add Google Calendar, check SyncGene guidelines.
About Google Calendar
You can easily add Google Calendar with SyncGene service.
Google Calendar is a time-management and scheduling calendar service developed by Google. Google Calendar allows users to create and edit events. Reminders can be enabled for events, with options available for type and time. Event locations can also be added, and other users can be invited to events. Users can enable or disable the visibility of special calendars, including Birthdays, where the app retrieves dates of births from Google contacts and displays birthday cards on a yearly basis, and Holidays, a country-specific calendar that displays dates of special occasions. Several different Calendar can be stored in one account with events shown in different colors for each Calendar.
About 4Team Corporation
The Company Behind SyncGene
4Team Corporation is a Microsoft Gold Certified Partner and independent software vendor. Since 1999 we are developing software for Microsoft Windows and Add-ins for Microsoft Outlook. Our SyncGene service makes collaboration between different platforms an easy task. Add shared Calendar, Contacts list or Tasks to devices you use. We are serving hundreds of thousands of customers around the world. We are very proud to be highly recommended by our customers and offer award-winning support.
Our satisfied customers
Customers worldwide trust 4Team Corporation services for personal and business needs