Add Contacts to iPad
Add Contacts to iPad and mobile devices you use
Add Contacts to iPhone, Android, Samsung or other devices. Avoid importing/exporting iPad contacts manually. SyncGene will update your Contacts between Google, iCloud and Office 365 automatically.

Add Contacts to iPad by clicking "Sign Up to Add" button.
SyncGene customers reviews
"
Finally, I can automatically add company Contacts to my employees work phone. I can avoid entering the same information on multiple devices manually. Great tool!
"
Add Contacts to iPad with SyncGene
With SyncGene you can add Contacts, Calendars and Tasks to different Cloud platforms. Add Contacts in bulk to iCloud, Google or Office 365. Add them to devics you use - iPhone, Samsung, Android phone or a computer. Since SyncGene is a web-app, there is no need to install anything on your mobile device.
Features related to add Contacts to iPad
Add Contacts, Calendar and Tasks to Office 365, iCloud, Gmail and other apps you use.
Add Contacts to iPad
Add Contacts to iPad with SyncGene. Connect your Contacts account and add iPad account. Your contacts will be updated in a few minutes. You can add several accounts from Google, iCloud or Office 365 and keep them continuously updated.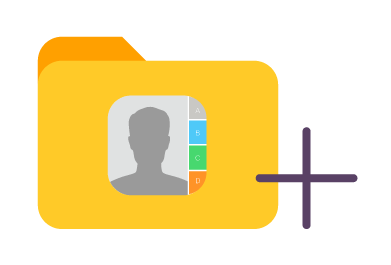 Add Contacts to iPad in bulk
Select the Contacts you want to add. Avoid adding whole address book to iPad and select only folders you want. Update Contact list on iPhone, Android, Samsung, Computer or other device you use.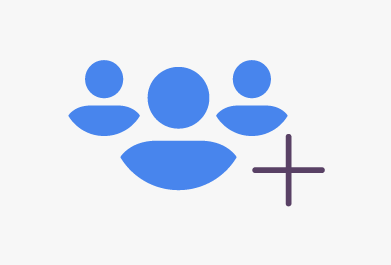 Add shared Contacts list
It's a great choice if you want to keep Family or Work group Contacts list updated between several devices. Create a new Contact list on iPad and add it to other devices. When changes are made at one Contact list - it will be updated on connected accounts.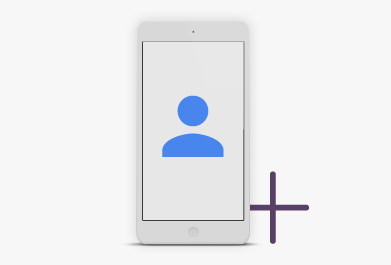 Add iPad Contacts to your mobile device
Since SyncGene is a web-app - there is no need to install anything. You can Add Contacts to iPad from any device, wherever you are. Just add two or more accounts and your Contacts will updated between them.
MORE FEATURES
How to add Contacts to iPad?
Create shared iPad Contacts folder.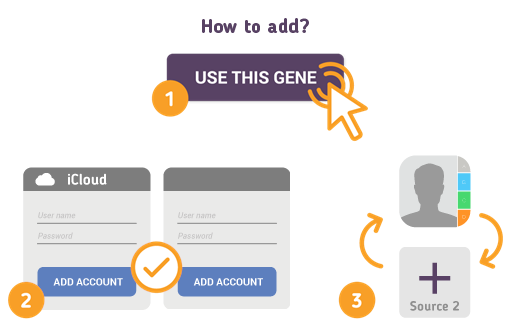 1. Go to SyncGene and sign up;
2.

Find the "Add Account" tab, select iCloud and sign in to your iPad account;

3.

Click on "Add Account" and log in to account you want to add your contacts;

4.

Find the "Filters" tab, choose "Contacts" and check the folders you want to share;

5.

Click "Save" and then "Sync all".

Your iPad Contacts were successfully added to selected account!
About iPad
You can easily add Contacts to iPad with SyncGene service.
iPad is a tablet computer developed by Apple Inc. It runs on iOS and iPadOS mobile operating system. It is one of the most popular tablet computers by sales. Currently, there are 9 versions of iPad and 4 versions of iPad mini.
Bigger screen of iPad offer better experience while watching videos, movies and browsing the internet. It offers more flexibility than a computer and more computing power than a phone. Thus it gained popularity among users.

About 4Team Corporation
A Company behind SyncGene
4Team Corporation is a Microsoft Gold Certified Partner and independent software vendor. Since 1999 we are developing software for Microsoft Windows and Add-ins for Microsoft Outlook. Our SyncGene service makes collaboration between different platforms an easy task. Add shared Calendar, Contacts list or Tasks to devices you use. We are serving hundreds of thousands of customers around the world. We are very proud to be highly recommended by our customers and offer award-winning support.
Our satisfied customers
Customers worldwide trust 4Team Corporation services for personal and business needs