Transfer iPhone 5 Contacts
Transfer iPhone 5 Contacts using Free SyncGene service
Transfer iPhone 5 Contacts list between iCloud, Office 365 or Google. Keep your iPhone 5 Contacts updated on every device you use.

Transfer iPhone 5 Contacts by clicking "Sign Up to Transfer" button.
SyncGene customers reviews
"
I use two phones at all times and entering new Contacts was daily problem. With SyncGene I don't need to worry about contacts transfer since it is done automatically.
"
Transfer iPhone 5 Contacts with SyncGene
SyncGene is a Free service and a web app to transfer Contacts. With SyncGene - transfer your iPhone 5 Contacts and Calendar events between devices you have. Transfer them between iPhone, Android, Samsung or other mobile devices. Transfer them automatically between Google, iCloud or Office 365.
Features related to transfer iPhone 5 Contacts
Transfer iPhone 5 Contacts, Calendar and Tasks between Office 365, iCloud, Gmail and other apps you use.
Transfer iPhone 5 Contacts
SyncGene can transfer your Contacts between different cloud paltforms - Google, iCloud, Office 365. It is compatible with most mobile devices - iPhone, Samsung, Android or Computer. Sign Up and SyncGene will Transfer iPhone 5 Contacts in just a few clicks.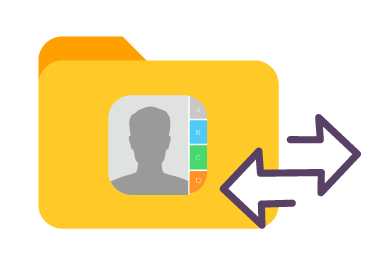 Manage your Contacts list
Sometimes you want to transfer only specific Contacts and not a whole address book. With SyncGene you can transfer only selected iPhone 5 Contacts folders.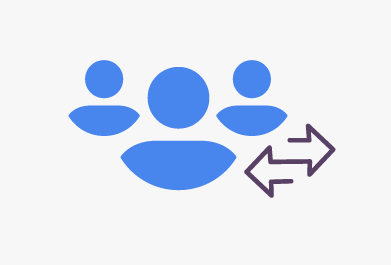 Mass transfer Contacts list
Maintain Contact groups on several devices. It is a perfect solution if you need continuously updated Work group or Family Contacts list. Contacts are updated then changes are made on connected devices. Use SyncGene to Transfer iPhone 5 Contacts.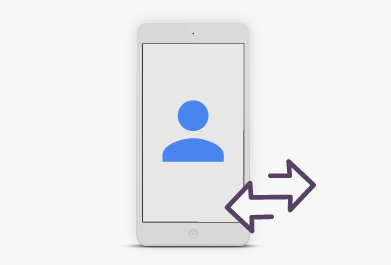 Transfer iPhone 5 Contacts between mobile devices
Syncgene is a web-app so you don't need to install anything. Simply login and add accounts you are transferring Contacts from and to. Your Contacts will be transferred between iPhone 5 and selected service.
MORE FEATURES
How to transfer iPhone 5 Contacts?
Easily transfer Contacts between devices or web-app you use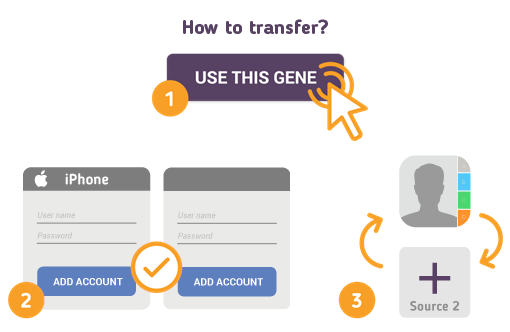 1. Go to SyncGene and sign up;
2.

Find the "Add Account" tab and sign in to your Contacts account;

3.

Click on "Add Account" and log in to second account where contacts will be transferred to;

4.

Find the "Filters" tab, choose "Contacts" and check the folders you want to transfer;

5.

Click "Save" and then "Sync all".

Now you can access your iPhone 5 Contacts from both accounts.
About iPhone 5
You can easily transfer iPhone 5 Contacts with SyncGene service.
"It is the 6th generation phone released on 21st of September 2012, succeeding the iPhone 4S, and named as one of the most stunning looking phones on the market at the time. The new iPhone 5 has met some major design and technical upgrades from its predecessor, such as a new lightweight aluminum body, which is also thinner than the previous one, higher resolution pixel screen, a new 8MP camera with 1080p video support as well as the new iOS6 operating system. On top of that, although the call quality wasn't majorly improved from the 4S, but it did receive 4G connectivity support. "
About 4Team Corporation
A Company behind SyncGene
4Team Corporation is a Microsoft Gold Certified Partner and independent software vendor. Since 1999 we are developing software for Microsoft Windows and Add-ins for Microsoft Outlook. With our SyncGene product, users can transfer their Contacts, Calendars and Tasks at once. It helps to create shared libraries and collaborate between different platforms and devices. We are serving hundreds of thousands of customers around the world. We are very proud to be highly recommended by our customers and offer award-winning support.
Our satisfied customers
Customers worldwide trust 4Team Corporation services for personal and business needs