Transfer Google Calendar
Free service to Transfer Google Calendar
Transfer Google Calendar to iPhone, Android, Samsung or other devices you use. Avoid importing/exporting various files manually. Keep you Calendar events updated automatically.

Transfer Google Calendar by clicking "Sign Up to Transfer" button.
SyncGene customers reviews
"
I use two phones at all times and entering new Calendar events was daily problem. With SyncGene I don't need to worry about updating my schedule on several devices. With SyncGene it is done automatically.
"
Transfer Google Calendar with SyncGene
SyncGene is a service and a web-app to transfer Calendar events, Contacts and Tasks. Transfer it in just a few clicks between Google, iCloud or Office 365. Transfer your information without importing/exporting the files manually.
Features related to transfer Google Calendar
Transfer Calendar to Google, Office 365, iCloud or any device you use.
Transfer Google Calendar
With SyncGene you can transfer Calendar between devices or services you want. Transfer Calendar events between Office 365, iCloud or Google. Between iPhone, Samsung, Android or Computer you use. Sign up and Transfer Google Calendar in a matter on minutes.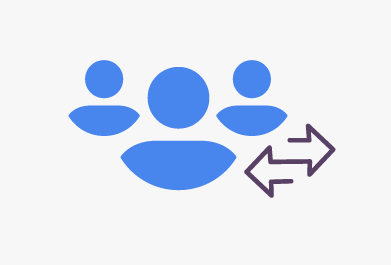 Transfer Work or Family Calendar to Google
Set-up SyncGene account and your Google Calendar will be transferred automatically. It is a great service to keep work group or family Calendar updated at all times. Changes to events are updated on all connected accounts.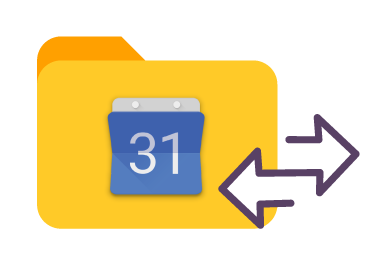 Manage permissions for Google Calendar
Choose which Calendar folders you are transferring. You can transfer all or selected Calendar events. Transfer your Calendar with "Owner", "Edit" rights. Give "Free/Busy" or "View only" permissions. Manage how your Calendar events will be displayed in other devices.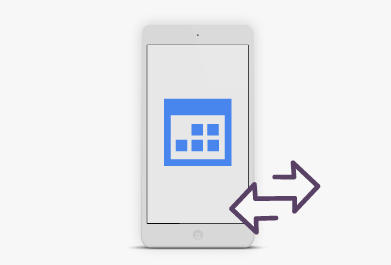 Transfer Google Calendar to a new phone
You can Transfer Google Calendar from any device. SyncGene is a web-app so there is nothing to install. It can be accessed on the go wherever you are.
MORE FEATURES
How to transfer Google Calendar?
Easily transfer Calendar events to device or web-app you use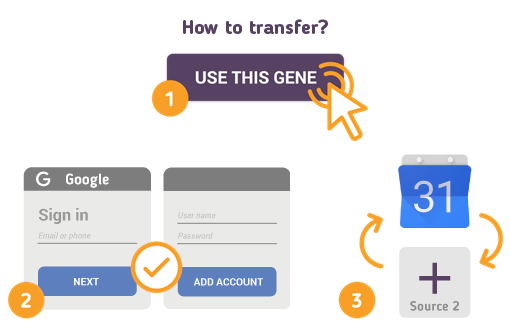 Just follow the steps below:
About Google Calendar
You can easily transfer Google Calendar with SyncGene service.
Google Calendar is a time-management and scheduling calendar service developed by Google. Google Calendar allows users to create and edit events. Reminders can be enabled for events, with options available for type and time. Event locations can also be added, and other users can be invited to events. Users can enable or disable the visibility of special calendars, including Birthdays, where the app retrieves dates of births from Google contacts and displays birthday cards on a yearly basis, and Holidays, a country-specific calendar that displays dates of special occasions. Several different Calendar can be stored in one account with events shown in different colors for each Calendar.
About Cira Apps Ltd
The company behind SyncGene
Cira Apps Ltd is a SaaS company with solutions that enhance Office 365 productivity for iPhone and Android business users. CiraSync, the flagship product, is used by more than 12,500 companies to provide productivity gains and cost savings via contact and calendar automation. The company is headquartered in San Jose, California.
Our satisfied customers
Customers worldwide trust Cira Apps Ltd services for personal and business needs