Synchronization results
After the synchronization is completed, you will receive the notification with a link to the latest synchronization report.
Synchronization report will display the statistics of what has been synchronized during the selected period of time. Selected period cannot be longer than 3 months.
In the drop-down menu, you can choose the date of the report. You can choose "Today", "Last week", "Last month" or "Last three months".
In the drop-down menu choose "Group by type" option, to see how many Tasks, Calendars or Contacts were changed.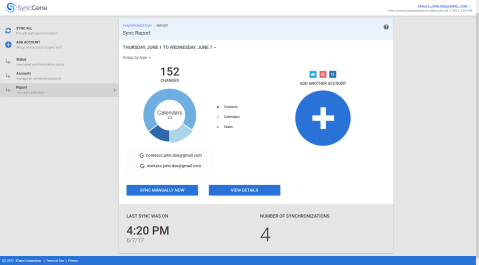 To see changes made in every account, choose "Group by account" option.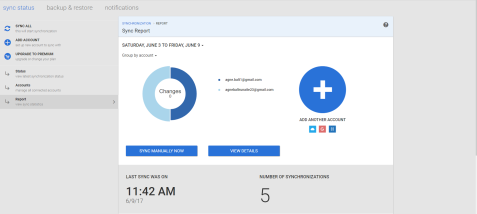 Click "VIEW DETAILS" to see detailed report of how many new items were created, how many items were changed and how many items were deleted in the chosen period.
Select "SYNC MANUALLY" if you wish to synchronize new items in Contacts, Calendar and Tasks folders.